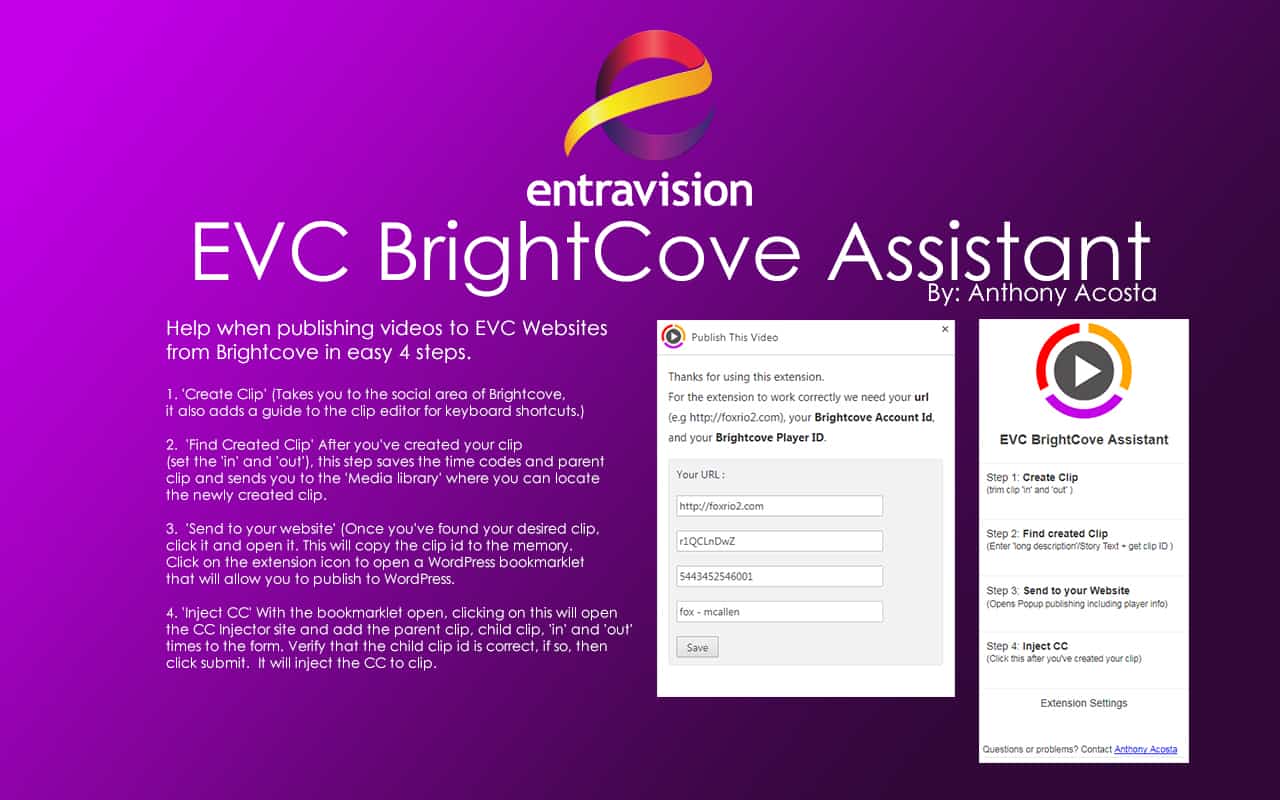 EVC Brightcove Assistant
This chrome plugin was designed to assist MMJ's when creating clips, Injecting CC, & publishing from Brightcove to Entravision Sites.
Installation:
Click on this link from your Chrome Browser:
https://chrome.google.com/webstore/detail/evc-brightcove-assistant/gjheajpgpdkofeadfinoiodoglbofgod?authuser=1
Click on the Blue "+ Add to Chrome" Button
Confirm the installation by clicking the "Add Extension" button.
Setting it up:
For the extension to work correctly we need your station url (e.g https://noticiasya.com/el-valle/ )
Your Brightcove Account ID. ( e.g "5443452546001" )
Your Brightcove Player ID. ( e.g "r1QCLnDwZ" )
You can enter this into the plugin by clicking on the icon and then clicking 'Extension Settings'. You will see the menu that will allow you to enter the above information.
or click on the 3 dots, then click on 'more tools', then click 'Extensions'. You will see the extension listed, and can click on the 'Options' link. You will see the menu that will allow you to enter the above information.
Usage:
Login to your wordpress site.
Login to Brightcove: https://signin.brightcove.com/
Click on the Extension icon and a menu will pop up.
Step One
1. Click on the Video you want to use to create a clip.
2. Once the video is selected, click the "Create Clip" Button
3. Change the Clip Name to the Headline for your story.
4. Select the 'In' and the 'Out' for your clip.
5. Click Continue
6. Add your story tags
7. Click Save
8. Congratulations your clip is created.
Step Two
Find your newly created video clip from the list.
Click on the title to open the clip in the editor
Wait for the

PURPLE

'CC Inject' Button to load.
Click it to open the CC Inject in a new tab. The needed information will already be filled in.
Click the 'Save' button and then close that tab.
Click Edit and add your story text in the long description
Click Save.
Step Three
Click on the Extension icon and a WordPress pop-up should appear (sometimes it doesn't)
Click the Tags box (top right) and add your tags
Click the image to insert it into the story (We must do this so that WordPress can find it to use as the default image.)
Click Publish
Final Note:
I am working to improve and streamline this process.
If you have any suggestions, please email me at [email protected]
Thank you